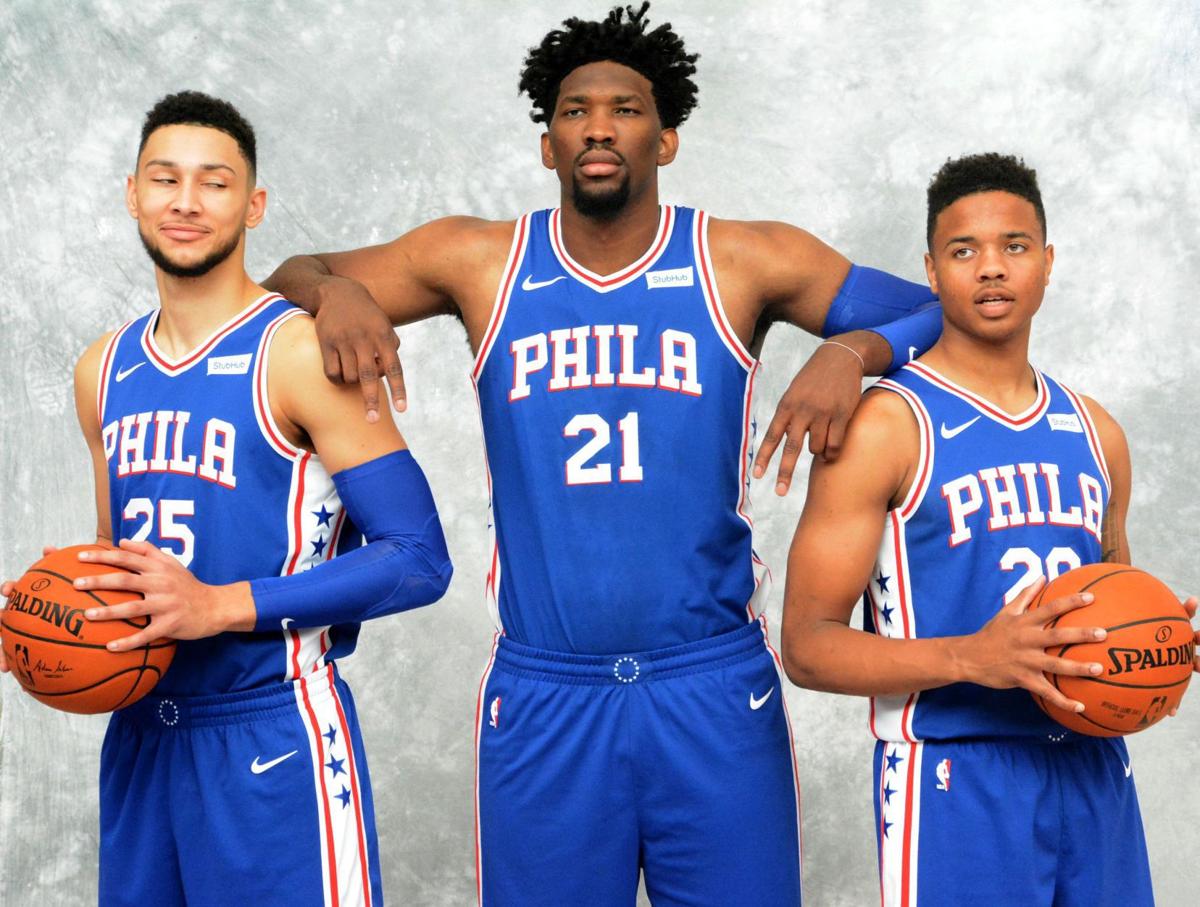 Question of the day…
Who's dominating the league in 5 years?
2 teams who will definitely dominate
Philadelphia 76ers
Boston Celtics
Teams who I think have a good chance…
Utah Jazz
Los Angeles Lakers
New Orleans Pelicans
Milwaukee Bucks
Philadelphia 76ers
I shouldn't have to say much.
Joel Embiid is already a top big man with the skills and potential to one day become #2 behind Anthony Davis. Some could argue he's there already. He's even drawn comparisions to the great Hakeem Olajuwon. Injury is becoming less and less of a question.
Ben Simmons is a young, post up version of LeBron James. Throughout his rookie campaign and how he's rallying this young 76ers team in the playoffs against a rough and physical Miami Heat team. Injury has been taken out of the equation.
These are the players they can build around and use to maintain the team for another decade at least.
Plus, you have lots of young talent on the team as well.
Robert Covington is becoming a top 3 and D player.
Saric is solid all around.
Richaun Holmes is a good post player.
Markelle Fultz is a solid point. Good around the rim. Decent mid-range and a good passer. Decent defender as well. Good back-up. Can only get better from here.
T.J. McConnell in my opinion is an underrated facilitator. Similar mold as a Ricky Rubio or Rajon Rondo.
The 76ers have great young talent.
Plus, Brett Brown is a solid coach. He held down the fort through the worst and kept the team together. He deserves to see all the success the teams is getting now.
Boston Celtics
The Celtics will dominate the league.
The east will see the Celtics and 76ers in the conference pretty much every season.
Similar case for them as the 76ers.
Not only will they dominate next year when Hayward and Kyrie are healthy.
But they have the young talent to maintain this level of success for a long time.
Of course, you got Hayward and Kyrie. Top players at their respective positions.
Kyrie is the face of the team.
You already had good bench depth with Marcus Smart and company.
But now, you have three young players really stepping up to star status.
First, Jayson Tatum. He's having on of the best rookie campaigns in franchise history. That says a lot. He's been overshadowed by the likes of Donovan Mitchell and Ben Simmons. But he's a franchise player in the making. All around good and still has lots of room to grow.
Second, Jaylen Brown. He's probably been the best two-way player for this team this year behind Al Horford. Dude can flat out ball. He can beat you to the rack, he can hit jump shots, and he can lock up one of your top scorers. Lots of upside to him too.
Lastly, Terry Rozier. He's done a nice job stepping up to the plate in the absence of Kyrie. He's been playing like a star. He's proven himself to be a good scorer and a good facilitator. The only negative thing I can say about him is his consistency. He doesn't get double doubles every night. But that's not really a terrible thing considering he'll still put up at least 14 points and 5 assists every game. Has some up side and if he can put up 20 points and 10 assists consistently. Having him behind Kyrie is a nightmare.
Oh, and when Gregg Popovich retires. Brad Stevens will be the leagues best coach.
Utah Jazz
They need to add more young talent around Donovan Mitchell and Rudy Gobert.
They play good team ball as it is.
If they can get another young star who compliments Rudy down low. It's going to be a nightmare. Rudy is an elite defender and tough rebounder. If they can get someone who is not only tough on defense but a good scorer around the rim with a jumper. Good luck with that.
Or someone who compliments Mitchell on the perimeter. Mitchell is like Dwayne Wade with a little bit of Louis WIlliams. Soon to be a great two-way player. If they can get another great two-way player. Someone similar to a Paul George or Gordon Hayward(No disrespect intended). It's over.
They already have Ricky Rubio to be the distributor for years to come assuming they move forward with him.
No doubt they'll trouble every team in the west.
Keep adding more young talent to the bench.
They can be very dangerous for years to come.
Los Angeles Lakers
If I'm a be honest. I don't fuckin know what's gonna happen or what the Laker's management's going to do this summer.
But regardless. They have very promising young talent on this team and I feel they should stick with just this group for at least another year to see what happens before they go out and attempt to get PG or whatever rumors they got going on in the media.
Kyle Kuzma may develop to be the teams best player, at least their best scorer. He can do it all on offense. He just needs to make strides on defense to be the #1.
Lonzo Ball may have a broken jumper. But he's done everything else on the floor with precision. Already a good floor general at a young age and his defense is very solid.
Julius Randle is a good athletic finisher and is no push over on defense.
Brandon Ingram has the length and skill set to become either another Giannis if he bulks up and and focuses on slashing. Or another Kevin Durant if he focuses on shooting.
Josh Hart may be the team's 6th man for a while. Solid shooter.
Lots of promise here. We just have to see how they develop together. I think getting a superstar this early may hurt the team.
New Orleans Pelicans
I think they're dominating the west next year if they keep Cousins. Which I think they will, watching Boogie on the sideline cheering and getting hype is definitely a good sign.
I've said this before.
Anthony Davis, Demarcus Cousins, and Jrue Holiday will be one of the leagues best big 3 for years assuming they stick together.
Davis is without a doubt, the best bigman in the league, may even be the best player.
Cousins is all around great. A top 5 center.
Holiday is probably one of the best two-way players in the league at this point. Look what he did to CJ McCollum and Dame Lillard with Rondo.
They have the core.
They just need better, younger players.
Rondo won't play forever. Emeka Okafor is only playing because Cousins got hurt, and he rarely plays.
They need to get a solid two-way player at Small Forward and get young players on the bench outside of E'Twuan Moore. Mirotic will be past his prime in 5 years.
But overall, they look very promising. Put in the right pieces and they will dominate the west without a doubt. Match-up problems down low and the guards can hold their own.
Milwaukee Bucks
They have a very talented team. I just don't think the pieces mesh well.
Giannis, Middleton, and Brogdon are definitely the big three moving forward.
I just don't see the other players really fitting well.
Jabari Parker is a good player. So is Eric Bledsoe. But they don't mesh well.
I think the Bucks need to replace them.
Get a dominant big man and get a versatile power forward if Thon Maker doesn't progress much.
That will be all they need to be a contender.
If they can figure out the right pieces to add to the bench, that may put them over the top.
But too much dysfunction and changes this year to really say anything else. But Giannis, Middleton, and Brogdon look like the 3 moving forward.